Unlock your talent with our Cube Controls Formula Sport. This wheel have everything you need to enjoy the beauty of sim racing while living an exceptional driving experience. Featuring 2 magnetic shifter paddles. 13 momentary buttons. Built with a strong carbon fiber front plate and rock-solid electronics. No clutches. Wireless version available (compatible with Simucube only).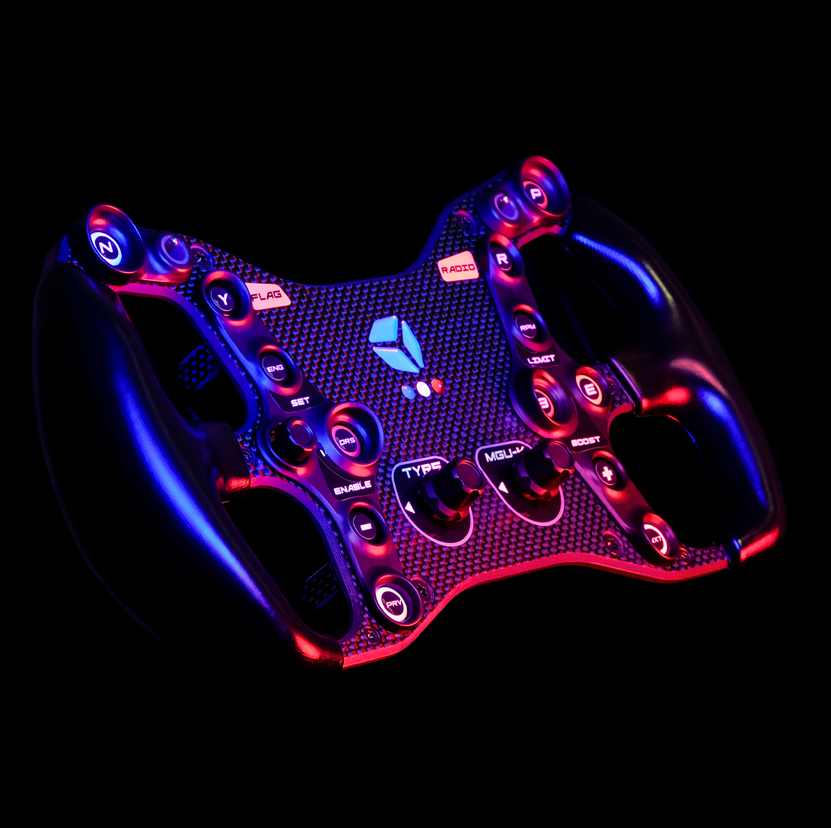 Formula Sport is the ideal choice to take your setup to a new level and experience the benefits of superior hardware. Despite its entry-level nature, the steering wheel features a pure carbon fiber front plate and boasts a unique design. The steering wheel also features a wireless version with a 1500mAh LiPo rechargeable battery, with a duration of up to 40 hours, suitable for long driving sessions without sacrificing comfort.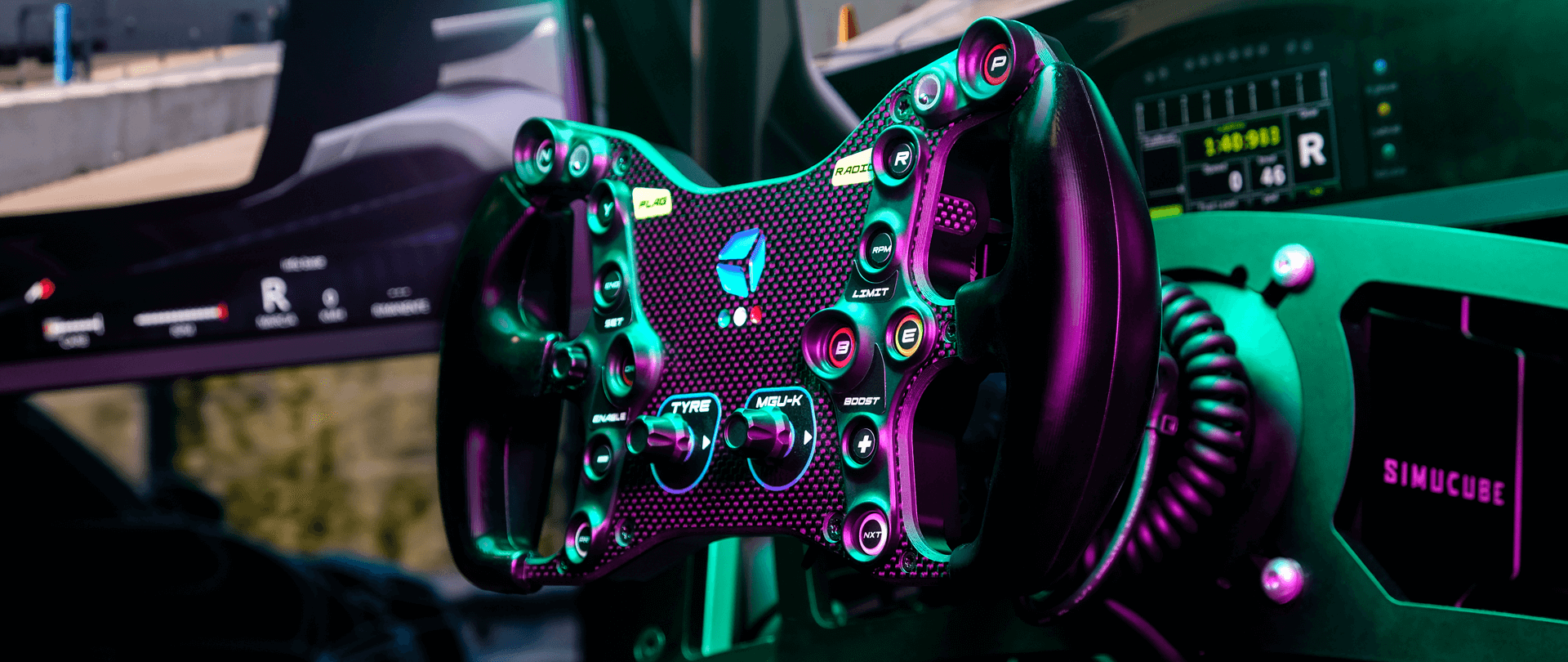 | Formula Sport | WIRELESS | USB |
| --- | --- | --- |
| Momentary buttons | 12 | 13 |
| On/off toggle switches with status led | 2 | 2 |
| Grip-to-Grip wheel length | 28,2 cm | 28,2 cm |
| Grip max diameter | 45 mm | 45 mm |
| Proprietary custom made tactile button assembly | √ | √ |
| Improved button guards with better ergonomics and feeling | √ | √ |
| Straight back charging connector | √ | √ |
| CNC machined billet aluminum main body | √ | √ |
| Front rotary encoders | 2 | 2 |
| Zero play short-throw custom-designed magnetic switchless shifter paddles | √ | √ |
| Multi-directional joystick with integrated encoder | X | 1 |
| Integrated Simucube wireless module | √ | X |
| Integrated charging electronics | √ | X |
| LiPo battery, up to 40 hours of use | V 1500mAh | X |
| Connection and battery status LEDs | V (blue when charged, purple while charging, red when out of power) | X |
| On/off pushbutton on the backside of the wheel | √ | X |
| Pure carbon fiber front plate | √ | √ |
| Wheel hub compatible with all formula-style quick release hubs (3 bolts, 1-inch and 70mm PCD) | √ | √ |
| Weight | 970 gr | 980 gr |
| VR friendly | √ | √ |
Q: What is included with your purchase?
A: Along with your steering wheel, you will receive in the package 1 USB cable, 1 Sticker Set, the User Manual, and other needed tools to help you through the installation of your wheel.


Q: How can I connect the Formula SPORT to my PC?
A: Each Classic wheel comes with its own coiled USB cable. Any USB 2.0 port will work.


Q: How can I connect the Formula SPORT Wireless to my PC?
A: Wireless steering wheels are integrated with Simucube wireless technology. It works through a simple device detection system.


Q: What wheel bases are compatible with Cube Controls Wireless?
A: The Wireless collection is compatible with Simucube Wireless only (Bluetooth BLE technology). Also, our wheels are featured with a unique hub that fits 50.8mm to 70mm 6 M5 holes. 50,8 mm universal QR will fit directly on the Simucube adapter.


Q: What's the difference between Formula SPORT and PRO?
A: PRO wheels have CNC machined and anodized aluminum knobs and backlit buttons available, whereas SPORT has standard black resin knobs and non-backlit buttons.


Q: How can I attach it to my FFB base?
A: Our wheel hubs have industry-standard 3 M5 holes 50,8mm PCD compatible with various adapters. We can provide them for Thrustmaster, Logitech, Accuforce, Fanatec bases, as well as most DD units. 50,8mm Q1R will fit directly. We also have available 50.8mm to 70mm 6 M5 holes conversion adapters.


Q: Are the shifter paddles adjustable?
A: Yes they are adjustable in reach and depth. We've reserved a 1 cm range which easily adapts to any hand size.


Q: How do the shifters paddles feel?
A: Firm. They have a very short and fast throw with a noticeable tactile clicky feedback. It's built for sim racers.


Q: Can I customize the racing wheel or buy only single components?
A: Unfortunately, we can't customize our products and we can't sell single components. To ensure superior quality we allow purchasing only whole racing wheels.


Q: What is the product warranty?
A: All our products, as per European law, are guaranteed for 2 years. The Warranty is reduced to 1 year for products purchased for internal usage by B2B customers (e.g. simulation venues using our products on their own sim rigs)
Additional information
| | |
| --- | --- |
| Weight | 3 kg |
| Dimensions | 32 × 32 × 12 cm |
| Device | USB, WIRELESS |