Sim Racing Steering Wheel
A new generation of Steering Wheel, designed to bring your sim racing experience to a whole new level.
tax and shipments not included
Discover our Cube Controls F-PRO. This updated Formula steering wheel features a UBS+Bluetooth Dual-Mode connection and completely customizable RGB Backlit buttons giving you an unprecedented level of freedom. Featuring double joystick, magnetic connectors, custom-designed magnetic switchless shifter paddles with adjustable stop ends, ball bearing and improved tactile feedback. 100% Carbon Fiber front plate. Die-cast aluminum mainbody.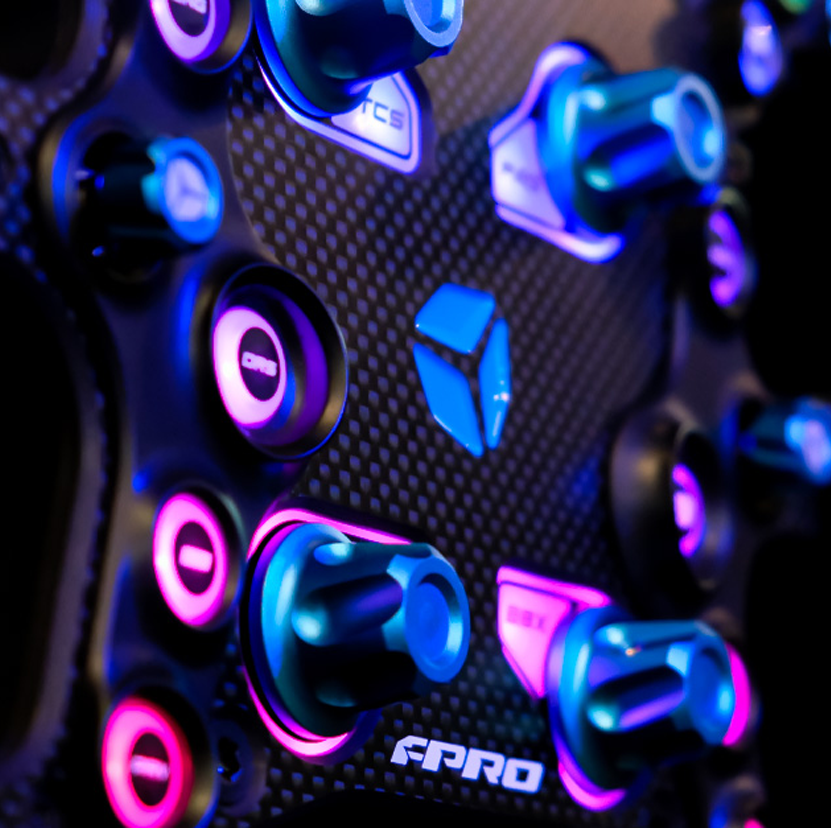 The Next-Gen steering wheel
With F-PRO, a new generation of Formula Cube Controls steering wheels is born. This model combines the most requested updates from our community, creating an extremely versatile product. F-PRO is Plug & Play and thanks to its Dual-Mode nature it guarantees superior compatibility without giving up options. The magnetic coupling of the new Q-Conn connector also protects the steering wheel by avoiding stress on the power cable during battery charging and racing sessions in USB mode. Its RGB buttons are individually configurable with infinite color combinations to make your sim experience even more unique..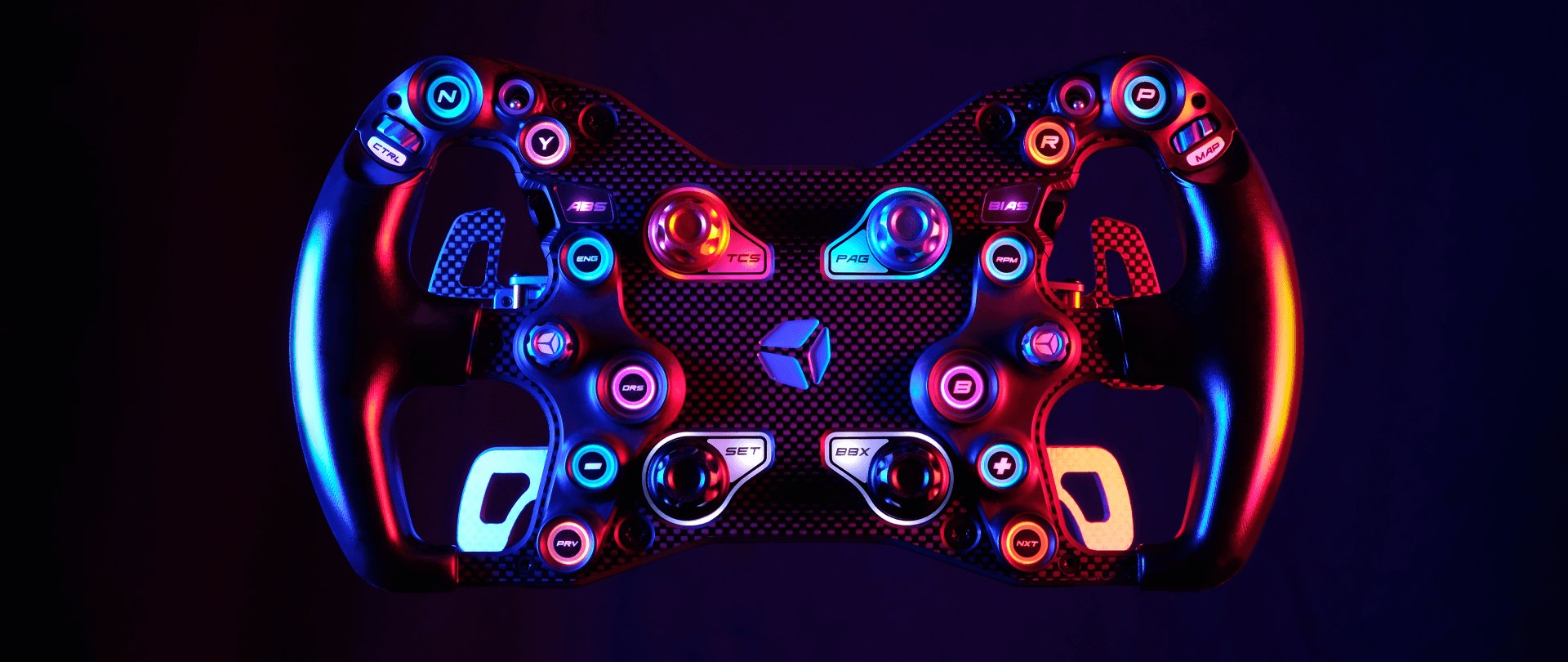 Formula F-PRO

Momentary buttons

12

On/off toggle switches with status led

2

Grip-to-Grip wheel length

28,2 cm

Grip max diameter

45 mm

Proprietary custom made tactile button assembly

√

Improved button guards with better ergonomics and feeling

√

Straight back charging connector

√

Backlit buttons

√

Clutches

√

Front rotary encoders

4

Thumb rotary encoders

2

Thumb rotary encoders integrated into the grips

2

Zero play short-throw custom-designed magnetic switchless shifter paddles

√

Launch control clutch system

√

Multi-directional joystick with integrated encoder

2

Integrated charging electronics

√

LiPo battery, up to 40 hours of use

V 2000mAh

Connection and battery status LEDs

√

(green when charged, red while charging, yellow when out of power)

On/off pushbutton on the backside of the wheel

√

In-software clutch and shifters configuration

SOON

Pure carbon fiber front plate

√

Wheel hub compatible with all formula-style quick release hubs (3 bolts, 1-inch and 70mm PCD)

√

Weight

1100 gr

VR friendly

√

Plug & Play technology – No shifter calibration required

√

USB+Bluetooth Dual mode

√

Q-conn magnetic connection cable

√

Customizable RGB LEDs buttons and dials

√

Completely redesigned zero play short-throw custom-designed magnetic switchless shifter paddles with adjustable stop ends, ball bearing and improved tactile feedback

√

Die-cast aluminum mainbody

√
D: How can I calibrate the shifter paddles?
A: F-PRO is a plug&play product and doesn't require shifter paddles calibration as per the classic collection of formula wheels, but you can adjust the bite-point of the clutches and customize the light of the buttons through its proprietary software.
D: How can I get the software?
A: In the download section, you can find the latest version of the software. New firmware versions will be periodically released to improve the system stability and bring new options.
D: Is the magnetic connector strong enough?
A: Absolutely. It's specifically designed to ensure a secure connection while keeping safe the product in case too many strong forces will be applied to the connector.
D: How long does the battery last?
A: From 20 up to 50 hours depending on the brightness level that you will choose for the RGB LEDs. You can customize them through the F-PRO software.
D: Is the Bluetooth connection reliable?
A: F-PRO will pair instantly to your PC as any other Bluetooth device, bypassing the wheelbase. Input lag is close to zero. However, we recommend using a good Bluetooth Receiver adapter on your computer.
Additional information
| | |
| --- | --- |
| Weight | 3 kg |
| Dimensions | 32 × 32 × 12 cm |
| Color | Black, Blue |