A quick intro
In the early 2019, we introduced the new Cube Controls Universal Hub featuring our Formula and GT steering wheels. It represents the easiest way to connect Cube Controls steering wheels to any base and in no time start enjoying your hyper-realistic sim racing experience on track!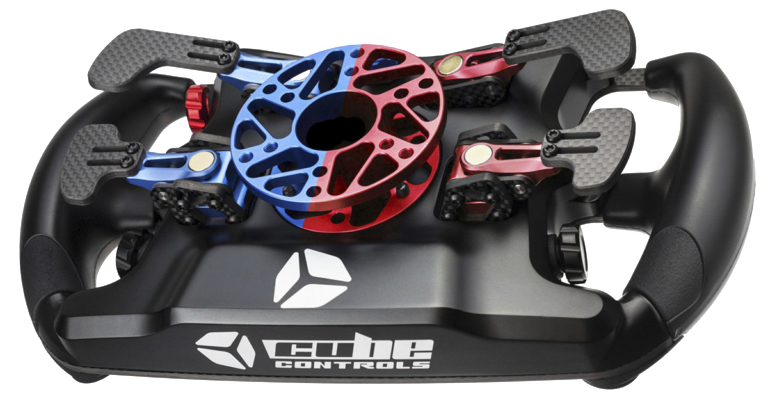 formula csx 2
Why is the Universal Hub special?
If you are here, you are probably familiar with what it is a hub and how it works, but have you ever wondered why is Cube Controls hub considered special? Well, let us enlighten you.
Made in aluminium, it features with both 50.8mm and 70mm bolt pattern threaded or not to ensure compatibility with all industry standard adapters and bases out there! It allows you to install various adapter, or even connect it directly to your FFB base. Without our Universal Hub a different adapter would be needed for each wheelbase in the market.
Do I need an adapter to use Cube Controls?
In some cases, you will need an adapter in order to install the steering wheel to your base. After years of testing and assessing the precious feedback from our clients, we made a list where you can check the compatibility with your base.
Here is what you will need for the most common wheelbase in the market:
– Logitech bases: Cube Controls to Logitech adapter
– Thrustmaster bases: Cube Controls to Thrustmaster adapter
– Fanatec bases: Fanatec Podium Hub
– AccuForce and AccuForce V2 bases: AccuForce Quick Release
– Simucube 1 and Simucube 2: No adapter needed
Cube Controls steering wheel are also compatible with the majority of other OSW/DD Projects without needing further adapters. If you need help we suggest contacting our Support Team and we'll help you sort things out!
How to install the adapter?
All the threaded adapters can be mounted on our hub simply using hex-head M5x10mm screws. These are to be installed from the bottom and tightened from the side with a proper tool. While, if you own a thorough hole adapter like Q1R you will just need to mount it using provided normal M5 torx screws, which are to be installed from the top. Anyhow, whichever is your case, it is not necessary to disassemble the wheel or removing its hub.
Once you have all set up, the procedure of installation is very easy: you just need to attach it to your base. Below is a picture of how it looks from the outside.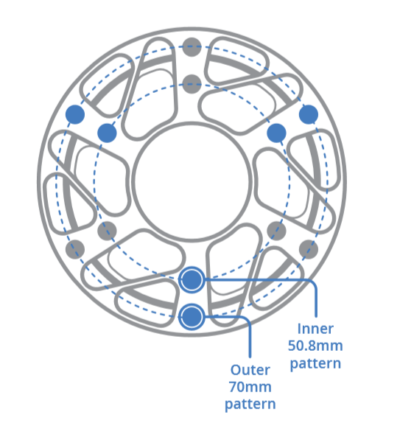 Highlighted in blue the M5x0.8 metric holes.
In gray, 5,5mm through holes.
Both of them are available in 70mm or 50.8mm bolt pattern.
Through holes are rotated by 180°, so you may need to flip your adapter to match the wheel hub.
Why was the Universal Hub Born?
We asked our Co-Founder & Lead designer Massimo Cubeddu how this internal project started at Cube Controls:
Given the different type of releases available on the market, soon after lauching the first generation of our steering wheels it became more and more necessary to develop a system that would allow everyone, even the beginners, to connect the steering wheel to their base quickly and easily.

Not only was it needed to accelerate our internal process, but also it was crucial to make our products available to everyone.
Black, Blue or Red?
The Universal Hub is featuring our Formula and GT racing wheels in three colours: black, red or blue.  Which colour will you choose for your next steering wheel?
Go and check it out to learn more!